DOI:
https://doi.org/10.15421/081411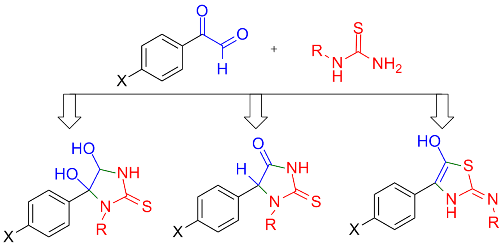 Interaction of arylglyoxals with thioureas
Abstract
Literature data about the reaction of arylglyoxals with  thiourea has been discussed. It has been shown that no systematic studies in this issue had ever been carried out, furthermore some data is contradictory. The reaction of arylglyoxals with thiourea is reported to be a stepwise process that depends on at least two factors. It is reaction conditions such as temperature and solvent. Also the nature of glyoxal may have crucial influence on the structure of products. In this article has been provided the convincing evidence of formation three different kinds of heterocyclic systems upon reaction of p-substituted phenylglyoxals with N-methyl and N-phenylthiourea.
Keywords
2-thiohydantoine; arylglyoxals; thiazolidinone
References
Schubert, M. P. Combination of thiol acids with methylglyoxal. J. Biol. Chem., 1935, Vol. 111, p. 671–678.
McKay, W. R., Proctor, G. R. Removal of toluene-p-sulphonyl groups from sulphonamides. Part 5. Reactions of phenylglyoxal imines and some tosylimines. J. Chem. Soc., Perkin Trans. 1, 1981, p. 2443–2450.
Paul, S., Gupta, M., Gupta, R., Loupy, A. Microwave Assisted Synthesis of 1,5-Disubstituted Hydantoins and Thiohydantoins in Solvent-Free Conditions. Synthesis, 2002, p. 75–78.
Ettari, R., Pinto, A., Micale, N. Synthesis and anti-HIV activity evaluation of new phenyl ethyl thiourea (PET) derivatives. ARCIVOC, 2009, p. 227–234.
Anishchenko, A. A., Shtamburg, V. G., Volosyuk, V. V., Olefir, D. A., Mazepa, A. V. Condensation of p-chlorophenylglyoxal with phenylthiourea. Visn. Dnipropetr. Univ.: Khim., 2012, vol. 20, no. 18, p. 110–112. [in Russian]
This work is licensed under a
Creative Commons Attribution 4.0 International License
.
______________________________________________________
Journal of Chemistry and Technologies
eISSN: 2663-2942 | pISSN: 2663-2934
Address of founder:chem.dnu@gmail.com
The journal publishes scientific works on conditions: Creative Commons Attribution 4.0 International License
Founder: Oles Honchar Dnipro National University