INVASTIGATION OF FATTACIDIC COMPOSITION AND PHYSICO-MECHANICAL INDEXES OF DRY MILK MANYCOMHJNTNT MIXTURES
Keywords:
dry mixtures, sunflower oil, fattyacidic composition, correlation of fatty acids, physico-mechanical indexes
Abstract
Dry milk products are in growing demand and popularity. In this scientific work we have investigated the influence of sunflower oil on fattyacidic composition of fat phase and physico-mechanical qualities of dry polycomponent mixtures. The fattyacidic composition was determined by capillary gas-liquid chromatography, physical and mechanical parameters were determined by standardized methods. It was found that the use of sunflower oil has a positive effect on fattyacidic composition, organoleptical and physico-mechanical indexes of mixtures. It was determined that the addition of 2.5 % sunflower oil to the dry mixtures it increases the mass fraction (part) of fat in them by 57 %, decreases the hygroscopicity by 7.1 %, increases the specific gravity by 41.7 % in comparison with the control sample without vegetable oil. It was stated that the dose of vegetable oil doesn't influence on the indexes of solubility and active acidity of the product. It was defined he introduction of vegetable oil in an amount of 1.5 % and 2.5 % considerably changes the balance of fatty acids improving the nutritional value of product, as evidenced by the correlation of SFA (saturated fatty acids): MUFA (monounsaturated fatty acids): PUFA (polyunsaturated fatty acids) proves it. It was stated that the sunflower oil content close to 1.5 % allows the highest coefficient characterizing the biological action of fats in the product.
References
Uauy, R., Aro, A., Clarke, R., Ghafoorunissa, M., L'Abbe, R., Mozaffarian, D., Skeaf Stender, S., Tavella, M. (2009). WHO Scientifik Update on trans fatty acids: summary and conclus. European Journal of Clinic Nutrion, 63(2),68–75.
https://doi.org/10.1038/ejcn.2009.15
Peshuk, L. V., Radzievskaya, I. G. (2011). [Comparative analysis of fatty acid composition of traditional and exotic raw materials]. Zhurnal khromatografichkskogo obshchestva, 3(4), 42–48. (in Ukrainian).
Yudina, S. B. (2008). [Tekhnologiya produktov funktsionalnogo pitaniya]. M : DeLi print. (in Russian).
Smoljar, V. I. (2006). [Koncepcija idealjnogho zhyrovogho kharchuvannja]. Problemy kharchuvannja, 4, 14–24. (in Ukrainian).
Kochetkova, A. A, Vorobeva, V. M, Vorobeva, I. S, Sarkisyan, V. A, Zorina, Ye. Ye. (2016). [Teoreticheskie i prakticheskie aspekty razrabotki spetsializirovannykh pishchevykh produktov dlya dietoterapii pri serdechno-sosudistykh zabolevaniyakh]. Pishchevaya promyshlennost, 8, 8–12. (in Russian).
Ivkova, I. A. (2013). [Spetsializirovannye produkty na molochnoy osnove]. Pitanie i zdorove, 1, 46–7. (in Russian).
Bodnarchuk, O. V. (2016). [Doslidzhennja vlastyvostej zaminnykiv molochnogho zhyru]. Prodovoljchi resursy, 6, 124–130. (in Ukrainian).
Subbotina, M. A. (2011). [Fiziologicheskie aspekty ispolzovaniya zhirov v pitanii]. Tekhnika i tekhnologiya pishchevykh proizvodstv, 1, 4. (in Russian).
Zhukova, Ja. F, Mudrak, T. P. (2015). [Vlastyvosti strukturovanykh lipidiv, pryznachenykh dlja nyzjkokalorijnykh molochnykh produktiv]. Prodovoljchi resursy, 5, 127–134. (in Ukrainian).
Romeih, E. A. (2002). Low-fat white-brined cheese made from bovine milk and two commercial fat mimetics: chemical, physical and sensory attributes. International Dairy Journal, 12, 525–540. https://doi.org/ 10.1016/S0958-6946(02)00043-2
Sampaio, G. R. (2004). Effect of fat replacers on the nutritive value and acceptability of beef frankfurters. J. Food Composition and Analysis, 18, 469–474.
Kondratiuk, N. V., Harkusha, I. M. (2016). Doslidzhennia ta analiz skladu shokoladno-horikhovoi pasty z polifunktsionalnymy vlastyvostiamy. Vostochno-Evropeiskyi zhurnal peredovуkh tekhnolohyi, 1(10), 36-41. http://nbuv.gov.ua/UJRN/Vejpte_2016_1(10)_6. (in Ukrainian).
Zukova, I. F., Korol, C. О., Petrushchenko, S. S. (2014). [Doslidzhennja vmistu trans-izomeriv olejinovoji kysloty u zhyrovij fazi molochnykh i kondytersjkykh vyrobiv]. Prodovoljchi resursy, 3, 146–154. (in Ukrainian).
Palmquist , D. L. (2006). Milk fat: Origin of fatty acids and influence of nutritional factors thereon. In Advanced of Dairy Chemistry, 2, 43–91. https://doi.org/10.1007/0-387-28813-9-2
Jensen, R. G. (2002). Invited reviw: The composition of bovine milk lipids: january 1995 to december 2000. J. Dairy Sci., Vol. 85 (2), 295–350. https://doi.org/10.3168/jds.S0022-0302(02)74079-4
Precht, D, Molkentin, J. (1996). Rapid analysis of the trans–octadecenoic acid in milk fat. Int. Dairy J., Vol. 6; 8–9, 791–809. https://doi.org/10.1016/0958-6946(96)00004-0
Abedi, E, Sahari, M. A. (2014). Long-chain polyunsaturated fatty acid sources and evaluation of their nutritional and functional properties. Food Sci. Nutr., 2, 443-463. https://doi.org/10.1002/fsn3.12
De Caterina, R, Liao, J. K, Libby, P. (2000). Fatty acid modulation of endothelial activation. Am. J. Clin. Nutr., 71, 213–223. https://doi.org/10.1093/ajcn/71.1.213S
Orsavova, J., Misurcova, L., Ambrozova, J., Vicha, R. Mlcek, J. (2015). Fatty Acids Composition of Vegetable Oils and Its Contributionto Dietary Energy Intake and Dependence of Cardiovascular Mortality on Dietary Intake of Fatty Acids. Int. J. Mol. Sci., 16, 12871-12890. https://doi.org/10.3390/ijms160612871
Zambiazi, R. C, Przybylski, R, Zambiaz, M. W, Mendonca, C. B. (2007). Fatty acid composition of vegetable oils and fats. B. CEPPA Curitiba, 25, 111–20.
Semeniuc, C. Rotar, M. A., Gus, C. C., Bele, F. Dulf, Socaci, S. A., Laslo, C. (2008). Fatty acids profile of two types of dry dairy products: whole milk powder and infant formula to obtaining. Journal of Agroalimentary Processes and Technologies, 14, 133–136.
Batiston, W. P., Maruyama, S. A., Gomes, S. T. M., Visentainer, J. V., Souza, N. E., & Matsushita, M. (2012). Absolute quantification of fatty acid and proximate composition of cow and goat powdered milks. Journal of the Brazilian Chemical Society, 23(10), 1907–1914. http://dx.doi.org/10.1590/S0103-50532012005000061
Davis, B. I., Siddique, A., & Park, Y. W. (2017). Effects of different storage time and temperature on physicochemical properties and fatty acid profiles of commercial powder goat milk products. Journal of Advances in Dairy Research, 5(4), 17.
http://dx.doi.org/10.4172/2329-888X.1000193.
Habtegebriel, H., Wawire, M., Sila, D. (2018). The effect of pretreatment (Spray Drying) on the yield and selected nutritional components of whole camel milk powder. Journal of Food Science, 83(12), 2983–2991. http://dx.doi.org/10.1111/1750-3841.14361.
Habtegebriel, H., Edward, D., Wawire, M., Sila, D., Seifu, E. (2018). Effect of operating parameters on the surface and physico-chemical properties of spray-dried camel milk powders. Food and Bioproducts Processing, 112, 137–149.
Borges, M. V., Alves, M. F., Chaves, M. A., Egito, A. S., Gross, E., & Ferrao, S. P. B. (2017). Chemical, structural and proteomic profile of buffalo milk powder produced in mini spray dryer. Revista Mexicana de Ingeniería Química, 16(1), 67–76.
Ivkova, I. A, Pilyaeva, A. S. (2011). [Ispolzovanie rastitelnykh zhirov «Ekolakt» v sukhikh molokosoderzhashchikh konservakh spetsialnogo naznacheniya]. Vestnik Omskogo gosudarstvennogo agrarnogo universiteta, 4, 55-58. (in Russian).
Minorova, A. V, Romanchuk, I. O, Krusheljnycjka, N. L. (2018). [Kharakterystyky sukhykh molochno-vughlevodnykh sumishej rozpyljuvaljnogho sushinnja]. Prodovoljchi resursy, 10, 206–212. (in Ukrainian).
DSTU ISO 15585/IDF 182:2008 Zhyr molochnyj. [Metod ghotuvannja metylovykh efiriv zhyrnykh kyslot] (ISO 15585/IDF 182:2002 IDT)
DSTU ISO 15585/IDF 184:2008 [Zhyr molochnyj. Vyznachennja zhyrno kyslotnogho skladu metodom ghazoridynnoji khromatoghrafiji] (ISO 15885:2002 / IDF 184:2002 IDT).
Lisin, P. A, Gavrilova, N. B, Moliboga, Ye. A, Yesipova, M. S, Trofimov, YeI. (2015). [Integralnaya otsenka sbalansirovannosti produktov pitaniya]. Khranenie i pererabotki selkhozsyrya, 8, 5–10. (in Russian).
Gershunskaya, V. V, Abramova, L. S. (2009). [Teoreticheskie osnovy i prakticheskie aspekty modelirovaniya produktov detskogo pitaniya na osnove rybnogo syrya]. Pishchevaya promyshlennost, 3, 44-47. (in Russian).
Strizhko, M. N, Radaeva, I. A, Turovskaya, S. N, Malova, T. I, Chervetsov, V. V, Galstyan, A. G. (2013). [Novyy kontsentrirovannyy produkt gerodieticheskogo naznacheniya]. Molochnaya promyshlennost, 3, 64–66. (in Russian).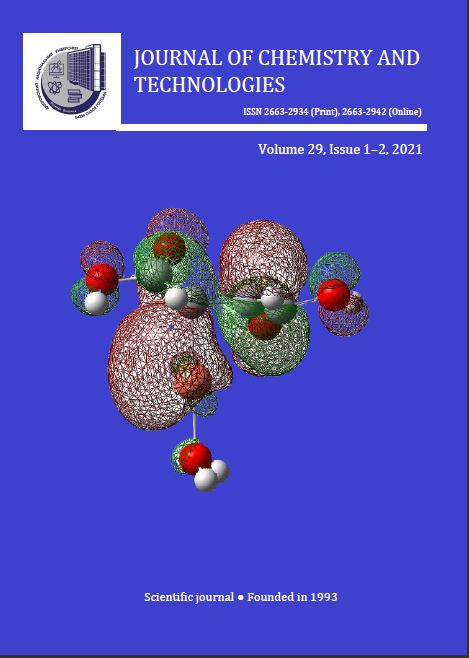 Downloads
Section
Chemical Technology
License
Copyright (c) 2021 Днипровский национальный университет имени Олеся Гончара
This work is licensed under a Creative Commons Attribution 4.0 International License.
Authors reserve the right of attribution for the submitted manuscript, while transferring to the Journal the right to publish the article under the Creative Commons Attribution License. This license allows free distribution of the published work under the condition of proper attribution of the original authors and the initial publication source (i.e. the Journal)
Authors have the right to enter into separate agreements for additional non-exclusive distribution of the work in the form it was published in the Journal (such as publishing the article on the institutional website or as a part of a monograph), provided the original publication in this Journal is properly referenced
The Journal allows and encourages online publication of the manuscripts (such as on personal web pages), even when such a manuscript is still under editorial consideration, since it allows for a productive scientific discussion and better citation dynamics (see The Effect of Open Access).