PHYSICO-CHEMICAL PROPERTIES OF CERIUM AND FERRIC DOPED TITANIUM HYDROXIDES SYNTHESIZED BY TWO METHODS
Keywords:
titania, composites, cerium and ferric doped, adsorption, phoshate ions
Abstract
Two types of materials on the base of titanium hydroxides are synthesized by co-precipitation and sol–gel method using pure and technical precursors. The ratio of metals in the samples after thermal treatment is determined by XRF analysis. Morphology of composites obtained is characterized by low-temperature nitrogen adsorption/desorption technique. Adsorption of phosphate ions that has been considered as serious water pollutants onto individual titania and titania doped by ceria and ferric oxides obtained by two methods is studied in the wide region of pH. All samples investigated demonstrate the high removal ability for phosphate anions at pH 2. The sample of titania doped cerium and ferric obtained by sol-gel method exhibits the highest adsorption capacity towards adsorbed ions of 3.6 mmol/g. The adsorption isotherms have been fitted to the Langmuir, Freundlich and Temkin models. The equilibrium data of non-doped by cerium samples agreed satisfactory with the Langmuir isotherm model. Temkin model of isotherm well describes the experimental data regardless the method used for synthesis with the highest values of the coefficient of determination.
References
Chahrour, Kh. M., Yam, F.K., Abdalrheem, R. (2019). High-performance UV photodetector of anodic rutile TiO2 nanotube arrays. Mater. Letters. 248, 161–164. https://doi.org/10.1016/j.matlet.2019.04.029
Amano, F., Taikei, Y., Mahaney, O., Uchida, S., Shibayama, T., Terada, Yo., Ohtani, B. (2010). Highly active titania photocatalyst particles of controlled crystal phase, size, and polyhedral shapes. Top. Catal. 53, 455–461. https://doi.org/10.1007/s11244-010-9472-1.
Athanasekou, Ch. P., Likodimos, V., Falaras P. (2018). Recent developments of TiO2 photocatalysis involving advanced oxidation and reductions in water. J. Environ. Chem. Eng. 6(6), 7386–7394. https://doi.org/ 10.1016/j.jece.2018.07.026.
Liu, K., Cao, M., Fujishima, A., Jiang L. (2014). Bio-inspired titanium dioxide materials with special wettability and their applications. Chem. Rev. 114(19), 10044–10094. https://doi.org/ 10.1021/cr4006796.
Bogdan, J., Pławińska-Czarnak, J., Zarzyńska, J. (2017). Nanoparticles of titanium and zinc oxides as novel agents in tumor treatment: a review. Nanoscale Res. Lett. 12, 225–240. https://doi.org/10.1186/s11671-017-2007-y.
Du, Ch., Huab, Y., Han, H., Sun, W., Hou, P., Liu, R., Wang, L., Yang, Y., Liu, R., Sun, L., Yue, T. (2019). Magnetic separation of phosphate contaminants from starch wastewater using magnetic seeding. Sci. Total. Environ. 695, 133723.
https://doi.org/ 10.1016/j.scitotenv.2019.133723.
Hashima, Kh. S., Al Khaddara, R., Jasim, N., Shaw, A., Phipps, D., Kot, P., Pedrola, M.O., Alattabi, A.V., Abdulredha, M., Alawsh, R. (2019). Electrocoagulation as a green technology for phosphate removal from river water. Sep. Purif. Technol. 210, 135–144. https://doi.org/ 10.1016/j.seppur.2018.07.056.
Delgadillo-Mirquez, L., Lopes, F., Taidi, B., Pareau, D. (2016). Nitrogen and phosphate removal from wastewater with a mixed microalgae and bacteria culture. Biotechnol. Rep. 11, 18–26. https://doi.org/ 10.1016/j.btre.2016.04.003.
Chowdhury, Z. Z., Sagadevan, S., Johan, R. B., Shah, S. T., Adebesi, A., Sakinul, I., Rafique, R. F. (2018). A review on electrochemically modified carbon nanotubes (CNTs) membrane for desalination and purification of water. Mater. Res. Express. 5, 102001. https://doi.org/10.1088/2053-1591/aada65
Blaney, B.L., Cinar, S., Semgupta, A. (2007). Hybrid anion exchanger for trace phosphate removal from water and wastewater. Water Res. 41(7), 1603–1613. https://doi.org/ org/10.1016/j.watres.2007.01.008.
Lesnichaya, T.V., Aleksandrova, V.S., Zykova, O.P., Khodakovskaya, T.A., Khainakov, S.A., Garsia, J.R., Kirillov, S.A. (2009). [Sorption of phosphate ions with materials based on titanium and lanthanum hydroxides]. Russ. J. Appl. Chem. 82, 951–955. (in Russian). doi: 10.1134/S1070427209060044.
Liu, R., Chi, L., Wang, X., Sui, Y., Wang, Y., Arandiyan, H. (2018). Review of metal (hydr)oxide and other adsorptive materials for phosphate removal from water. J. Environ. Chem. Eng. 6(4), 5269–5286. https://doi.org/ 10.1016/j.jece.2018.08.008.
Maltseva, T. V., Kolomiets, E. O. , Dzyazko, · Yu. S. , Scherbakov, S. (2019). Composite anion exchangers modifed with nanoparticles of hydrated oxides of multivalent metals. Appl Nanosci. 9, 997–1004. https://doi.org/10.1007/s13204-018-0689-9
Romanova, I.V., Farbun, I.A., Aleksandrova, V.S., Khainakov, S.A. (2003). [Preparation and ion-exchange properties of mixed zirconium (IV) phosphate-phosphonate sorbents]. Russ. J. Appl. Chem. 76(5), 759-763. (in Russian). doi: 10.1023/A:1026005118913.
Romanova, I.V., Kirillov, S.A. (2018). Preparation of Сu, Ni, and Co oxides by a citric acid aided route: effect of metal ions on thermal decomposition and morphology. J. Therm. Anal. Calorim. 132, 503–512. https://doi.org/10.1007/s10973-017-6880-5
Kirillov, S.А, Romanova, I.V., Lisnycha, T.V., Potapenko, A.V. (2018). High-rate electrochemical performance of Li4Ti5O12 obtained from TiCl4 by means of a citric acid aided route. Electrochim. Acta. 286. 163–171. https://doi.org/10.1016/j.electacta.2018.08.034
Schwarzenbach, G, Flaschka, H. A. [Complexometric titration]. Moskau, 1970. (in Russian).
Strelko, V.V., Meleshevich, S.I., Kanibolotsky, V.A., Olekseenko, O.A. (2012). UA Patent N 66489.
GOST, 18309-72. [Drinking water, Method for determination of polyphosphate content], 1972.
Foo, K.Y., Hameed, B.H. (2010). Insights into the modeling of adsorption isotherm systems. Chem. Eng. J. 156, 2–10. https://doi.org/10.1016/j.cej.2009.09.013.
Oleksiienko, O., Levchuk, I., Sitarz, M., Meleshevych, S., Strelko, V., Sillanpa, M. (2015). Adsorption of caesium (Cs+) from aqueous solution by porous titanosilicate xerogels. Desalination and Water Treatment. 57, 5554–5566.
https ://doi.org/10.1080/19443994.2014.1003103
Thommes, M., Kaneko, K., Neimark, A.V., Olivier, J.P., Rodriguez-Reinoso, F., Rouquerol, J., Sing, K.S.W. (2015). Physisorption of gases, with special reference to the evaluation of surface area and pore size distribution. Pure Appl. Chem. 87, 1051–1069. https://doi.org/ 10.1515/pac-2014-1117.
Priyadharsini, N., Rupa Casturi, P., Shanmugapriya, S., Surendran, S., Kalai Selvan, R. (2018). Effect of chelating agent on the sol-gel thermolysis synthesis of LiNiPO4 and its electrochemical properties for hybrid capacitors. Phys. Chem. Sol. 119, 183–192. https://doi.org/10.1016/j.jpcs.2018.03.004
Shen, H., Li, X., Hu, Ch., Wang, Zh., Hu, X., Li, Y., Yan, J. (2021) Effect of dispersants on the physicochemical properties of ultra-fine ZrB2 powder in Sol-gel synthesis. Surf. Interfaces. 25, 101162. https://doi.org/10.1016/j.surfin.2021.101162
Pechenyuk, S.I., Semushina, Y.P., Kuz'mich, L.F. (2013). Adsorption affinity of anions on metal oxyhydroxides. Russ. J. Phys. Chem. 87, 490–496. https://doi.org/ 10.1134/S0036024413030205.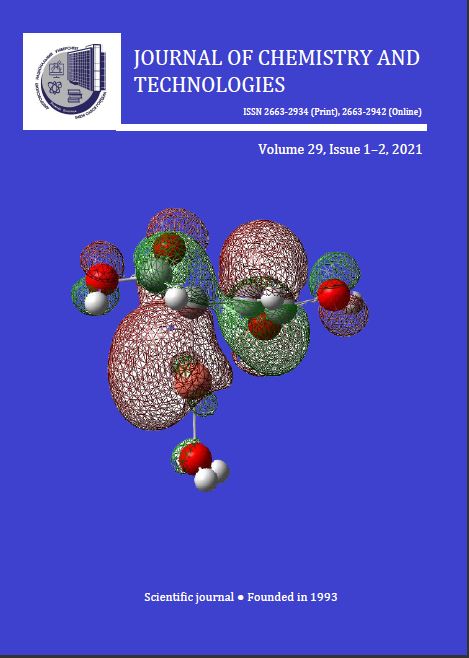 Downloads
Section
Physical and inorganic chemistry
License
Copyright (c) 2021 Днипровский национальный университет имени Олеся Гончара
This work is licensed under a Creative Commons Attribution 4.0 International License.
Authors reserve the right of attribution for the submitted manuscript, while transferring to the Journal the right to publish the article under the Creative Commons Attribution License. This license allows free distribution of the published work under the condition of proper attribution of the original authors and the initial publication source (i.e. the Journal)
Authors have the right to enter into separate agreements for additional non-exclusive distribution of the work in the form it was published in the Journal (such as publishing the article on the institutional website or as a part of a monograph), provided the original publication in this Journal is properly referenced
The Journal allows and encourages online publication of the manuscripts (such as on personal web pages), even when such a manuscript is still under editorial consideration, since it allows for a productive scientific discussion and better citation dynamics (see The Effect of Open Access).