EFFECTS OF DIFFERENT NATURAL FOOD COLORING ADDITIONS ON THE QUALITY OF CHICKEN SAUSAGE
Keywords:
Chicken Sausage, Food coloring, Red yeast rice , Beet red, Quality characteristics
Abstract
Колбаса - одно из самых популярных блюд в мире. Поскольку люди уделяют все больше внимания здоровью, исследования смешанного мяса в качестве сырья для колбас, растительного сырья (грибы, фрукты и овощи, пищевые волокна) в качестве ингредиентов, а также замещение нитритов стали горячими темами в этой области. колбасных исследований. В этом исследовании курица, свинина, пшеничные отруби использовались в качестве основного сырья для приготовления колбас, а ингредиенты (красный дрожжевой красный и свекольный порошок) были добавлены для замены нитрита и улучшения цвета колбас с куриными отрубями и повышения приемлемости продукта. Путем анализа цвета колбасы, потерь при варке, текстурных свойств, распределения влаги и сенсорной оценки, а также изменений других параметров было изучено влияние натуральных пигментов на качество колбасы. Результаты исследования показали, что значение красного цвета a * красного дрожжевого риса и красной куриной колбасы из свеклы было значительно увеличено (P <0,05), а значения a * контрольной группы, L1, L2, L3 и L4 составили 5,5. , 11,29, 13,27, 19,51, 22,30. И сенсорные баллы в группе лечения L1-L4 также были значительно увеличены по сравнению с контролем. Потеря при приготовлении пищи, потеря жира и потеря воды были значительно снижены (P <0,05). По сравнению с контрольной группой, степень потерь при варке куриных колбас (1,5 г порошка красного дрожжевого риса и 1 г красной свеклы) в группе обработки L3 была наименьшей, а стабильность эмульсии была самой высокой. Добавление натуральных пигментов не оказало значительного влияния на текстуру колбасы и значение pH (P> 0,05). Таким образом, колбаски с курицей из пшеничных отрубей в группе лечения L3 (1,5 г порошка из красного дрожжевого риса, 1 г свеклы красной) показали лучшие результаты по цвету, потере веса при варке, стабильности эмульгирования, pH, содержанию влаги, текстуре и органолептической оценке. Результаты исследования обеспечивают техническую поддержку и поддержку данных по применению натуральных пигментов в куриных колбасах.
References
Denicola, A., Souza, J. M., Radi, R. (1998). Diffusion of peroxynitrite across erythrocyte membranes. Proceedings of the National Academy of Sciences of the United States of America, 95(7), 3566–3571. doi:10.1073/pnas.95.7.3566
Majou, D., Christieans, S. (2018). Mechanisms of the bactericidal effects of nitrate and nitrite in cured meats. Meat Science, 145, 273–284. doi: 10.1016/j.meatsci.2018.06.013
Hemeryck, L. Y., Rombouts, C., Paepe, E. D. (2018). DNA adduct profiling of in vitro colonic meat digests to map red vs. white meat genotoxicity. Food and Chemical Toxicology, 115. doi: 10.1016/j.fct.2018.02.032
De Mey, E., De Maere, H., Paelinck, H. (2015). Volatile N-nitrosamines in meat products: Potential precursors, influence of processing, and mitigation strategies. Critical Reviews in Food Science Nutrition, 57 (13), 2909–2923. doi:10.1080/10408398.2015.1078769
Gassara, F., Kouassi, A. P., Brar, S. K.(2016). Green alternatives to nitrates and nitrites in meat-based products-A Review. Critical Reviews in Food Science and Nutrition, 56(13), 2133–2148. doi: 10.1080/10408398.2013.812610
Hou Y., Liu J., Zhao M., Shao Ya., Chen F., Peng L., Zhou Y. (2020). Analysis of the related standards about Monascus products. China Brewing, 39(02), 1–6. doi:10.11882/j.issn.02545071.2020.02.001
Li Y., Wang Y., Lu X., Kang M., Shang Y. (2020). The effect of monascus red addition on the functional properties and structure of pork myofibril protein. Food and Fermentation Industry, (02), 173–179. doi:10.13995/j.cnki.11-1802/ts.021983
Li, L., Chen Sh., Chen F., Gao M. (2013). Research progress in the biosynthetic pathways and related genes of the secondary metabolites of Monascus. Microbiology Bulletin, 40(02), 294–303. doi: 10.13344/j.microbiol.china.2013.02.009
Kun, Z., Chunjuan, L. (2021). Development of a convenient seasoning for braised pork. Chinese Seasoning, (03), 118–121. doi:10.3969/j.issn.1000-9973.2021.03.024
Zhao, W., Xue, Z., Ziyun, C., Yujiang, L., Benshang, Z., Jian, Z. (2021). Research on partial replacement of sodium nitrite with natural red pigment in beef products. Food Research and Development ,42(12), 30–37. doi:10.12161/j.issn.1005-6521.2021.12.006
Zhuozhao, G., Lijuan, P., Meiyuan, G., Weidong, B., Miaoyun, H., Xiaoyan, L. (2020). Research progress on coloring agents for meat products. Agricultural products processing. (01), 90–93. doi:10.16693/j.cnki.1671-9646(X).2020.01.025
Qinghua, L., Guocheng, D., Jianghua, L., Song, L. (2020). Mutagenic breeding and fermentation optimization of monascus pigment high-producing bacteria. Journal of Food and Biotechnology, 39(11), 18–24. doi:10.3969/j.issn. 1673-1689.2020.11.003
Fabre, C.E., Santerre, M. O., Loret, R. (1993). Production and Food applications of the Red pigments of Monascus rubber. Food Science. 58(5), 1099–1111. doi: 10.1111/j.1365-2621.1993. tb06123.x
Feng, Y., Shao Ya., Chen, F. (2012). Monascus pigments , Appl Microbiol Biotechnol, 96, 1421–1440,doi: 10.1007/s00253-012-4504-3
Wang, C. (2003). Study on the extraction technology of beet red pigment and its physical and chemical properties, Nanjing University of Technology. https://kns.cnki.net/kcms/detail/detail.aspx?dbcode=CMFD&dbname=CMFD9904&filename=2003124586.nh&uniplatform=NZKPT&v=nX76gyXjH7JTSEVilvyDU6ToAgW4Dx91sAO1Dlsy7t-e5H5v2uy3Pih1mqxwh8kP
Chaoqeng, X., Lulan, T., Peipei, Zh. (2019). The Coloring Effect and Antioxidant Effect of Red Beet in Minced Pork. Journal of Chinese Institute of Food Science and Technology, 19(5), 111–121. doi:10.16429/j.1009-7848.2019.05.015
Huijuan, Y., Fulong, W., Yi., P. (2020). The effect of nitrite substitutes on the color of meat emulsion. Zhejiang Agricultural Sciences, 61(02),349-351. doi:10.16178/j.issn.0528-9017.20200242
Chaogeng, X., Lulan, T., Peipei, Zh. (2019). Effect of Glycosylated Acyl Hemoglobin and Beet Powder on the Quality of Chinese Sausage. Journal of Chinese Institute of Food Science and Technology, 19(4), 161–168. doi:10.16429/j.1009-7848.2019.04.019
Shuai, J., Haili, N., Qian, L. (2017), Adds curderan gum to the quality characteristics of frankfurter sausage, Science and Technology of Food Industry, 38(19), 218–226. doi:10.13386/j.issn1002-0306.2017.19.040.
Colmenero, F J, Ayo, M J, Carballo, J. (2005). Physicochemical properties of low sodium frankfurter with added walnut: effect of transglutaminase combined with caseinate, KCl and dietary fibre as salt replacers, Meat Science, 69(4), 781–789. doi: 10.1016/j.meatsci.2019.107939
Chen, Y., Jiang, S., Cao, C., Chen, J., Kong, B., Liu, Q. (2019). Evaluation of the Quality of Frankfurters Prepared with Highly Stable Vegetable Oil-in-Water Pre-Emulsion as a Partial Replacer of Pork Back Fat, Food science, 40(24), 86–93. doi: :10.7506/spkx1002-6630-20180906-060
Chen, L, Opara, U. L. (2013). Texture measurement approaches in fresh and processed foods: a review, Food Research International, 51(2), 823–835. doi: 10.1016/j.foodres.2013.01.046
Aursand, I. G., Gallart-Jornet, L., Erikson, U., Axelsonet, D. E., Rustad, T.(2008). Water distribution in brine salted cod (Gadus morhua) and Salmon (Salmo salar): a low-field LF-NMR study, Journal of Agricultural and Food Chemistry, 56(15), 6252–6260. doi: 10.1021/jf800369n
Guoqing, L., Kai, Z., Lili, Zh., Yongbing, R., Yang, W., Shaotong, J. (2010). The influence of red yeast red pigment and ketchup on the color and flavor of Frankfurt intestines. Food Industry Science and Technology, 31(02), 118–121.
doi:10.13386/j.issn1002-0306.2010.02.032
Miklos, R., Mora-Gallego, H., Larsen, F.H., Lametsch. (2014). Influence of lipid type on water and fat mobility in fermented sausages studied by low-field NMR. Meat Science, 96(1), 617–622. doi: 10.1016/j.meatsci.2013.08.025
Honggang, T., Peipei, Zh., Chaogeng, X. et al.(2019). Effect of Colorant on the Nutrientsal Ingredient and Flavor Compound of Chinese Sausage. Journal of nuclear agricultural sciences, 33, 2405–2413. doi:10.11869/j.issn.100-8551.2019. 12. 2392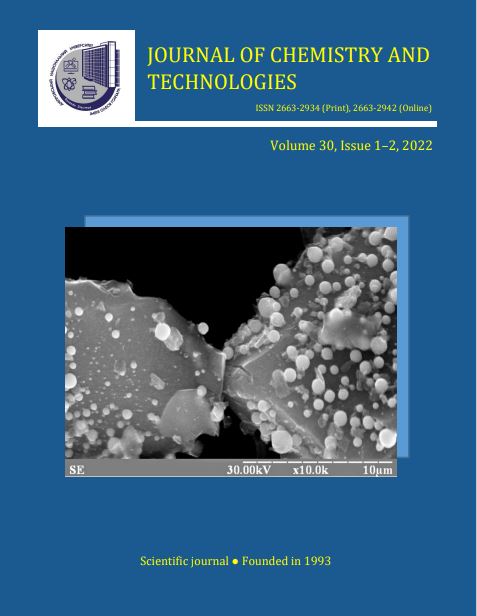 Downloads
Section
Chemical Technology
License
Copyright (c) 2022 Oles Honchar Dnipro National University
This work is licensed under a Creative Commons Attribution 4.0 International License.
Authors reserve the right of attribution for the submitted manuscript, while transferring to the Journal the right to publish the article under the Creative Commons Attribution License. This license allows free distribution of the published work under the condition of proper attribution of the original authors and the initial publication source (i.e. the Journal)
Authors have the right to enter into separate agreements for additional non-exclusive distribution of the work in the form it was published in the Journal (such as publishing the article on the institutional website or as a part of a monograph), provided the original publication in this Journal is properly referenced
The Journal allows and encourages online publication of the manuscripts (such as on personal web pages), even when such a manuscript is still under editorial consideration, since it allows for a productive scientific discussion and better citation dynamics (see The Effect of Open Access).